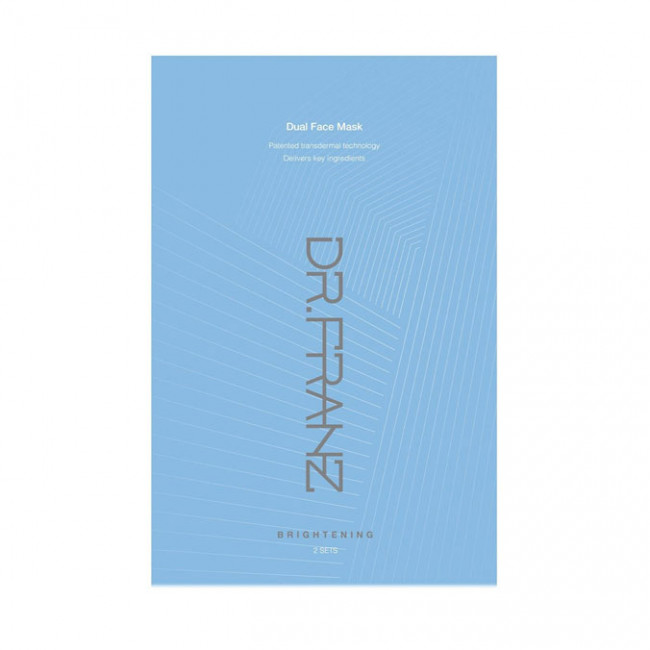 Dr. Franz Brightening Dual Face Mask
PHP 2,800.00 PHP 2,100.00
25% Off
DETAILS
This product can be sent as a gift.
ABOUT THE PRODUCT:

This brightening microcurrent facial mask system features an intensive dual-layered sheet mask powered by water energy. DR. FRANZ' signature Tissue X absorption enhancement technology combined with a brightening complex, instantly brightens and revitalises skin with deep, nourishing hydration.


HOW IT CAN HELP:
This set enriches the skin with the goodness of Probiotics and Prebiotics that supports the natural skin barrier, leaving skin brighter and more balanced, while Glutathione helps strengthen and replenish skin's moisture barrier. Combined with hyaluronic acids and ceramides, this treatment leaves your skin hydrated and plump with reduced signs of ageing.


CORE INGREDIENTS:
Probiotics + prebiotics: strengthens skin barrier, improves circulation, elasticity and cell turnover.
Glutathione: reduces the appearance of dark spots and uneven complexion.
Super lower molecular hyaluronic acid: capable of holding more than its own weight in water, it acts like a sponge to attract moisture and holding it in the skin for an instant, sustained shot of hydration.


HOW TO USE:
Apply wet Enriching Mask to cleansed, dry skin
Activate dry Empowering Mask: Add Boosting Essence to the back of the mask in each of the 2 rectangles
Layer over Enriching Mask. After 20-25 minutes, remove masks and massage in any excess serum.
Slight tingling may be experienced; this is completely normal and is just the mask hard at work!


WHAT'S IN EACH BOX:
Contains 2 Treatments of DR. FRANZ Brightening Dual Face Mask:
2 Enriching Masks (Wet)
2 Boosting Essence; 3ml/0.10oz
2 Empowering Masks (Dry)


WHAT SKIN TYPE IS IT GOOD FOR:
Good for all skin types, especially those with tired, dull and uneven skin tone.
forgot password
Please enter your email address and submit. We will then send you temporary password.
sign in to belo shop
Please enter your registered email and password to start shopping!
Join Belo privilege club (bpc)?
you can join the community by connecting with
our Belo doctors through an e-consultation request an e-consultation
Schedule your video consultation and our Customer Care Specialist will get back to you as soon as they can.
your request has been sent
Our customer care specialists will get back to you within 24 to 48 hours. They will also advise you on the confirmed schedule of your consultation, should it be deemed necessary by your doctor. Otherwise, you can proceed to purchase from the Belo Shop. Happy shopping!
forgot password
Please enter your email address and submit. We will then send you temporary password. REGISTER
Register now and make the most of My Account
* Required field
Your password must be 7-21 characters of upper and lower case, with at least one number.
By signing up, you are agreeing to our Belo Shop Account's
Terms and Conditions
Sign In
Belo Privilege Club (BPC) members
For members who already registered via mobile app or clinics, you may sign in immediately using your BPC email and password.
By using your account, you can earn and use points in any Belo Medical Group products.
Non-BPC members
For non-bpc members, use your registered Belo Shop email and password or sign in via Google or Facebook.