RESTOCK ALERT: FILLMED ITEMS ARE BACK!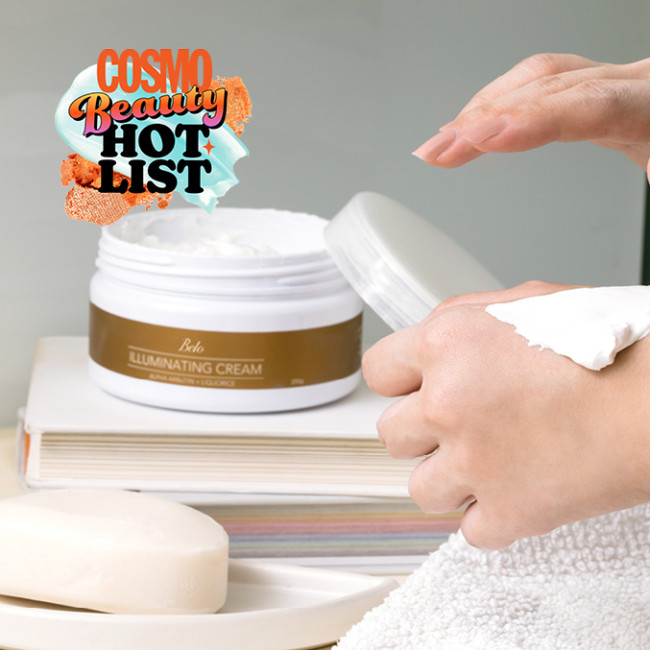 Belo Illuminating System
PHP 3,900.00
DETAILS
This product can be sent as a gift.
ABOUT THE PRODUCT:
The Illuminating soap is a blend of 2 active ingredients, Snail Mucin and Salicylic Acid. Snail Mucin hydrates and soothes the skin while reducing redness and inflammation while Salicylic Acid gently exfoliates skin revealing a smooth and healthy glow. This is complemented by the Illuminating Cream, which contains Alpha Arbutin and Liquorice -- both work best to treat hyperpigmentation and even out skin tone.
HOW IT CAN HELP:
Our perfect duo for at-home brightening skincare, the Belo Illuminating System is expertly curated to improve dark spots, uneven skin tones, and dull-looking skin all over the body including areas like armpits, groin, and inner thighs.
HOW TO USE:
Wet body with water. Lather on

Illuminating Soap

(135g), applying with an extra amount in areas where you want an even skin tone. Rinse off thoroughly. Use twice daily.

Apply

Belo Illuminating Cream

(250g) over damp skin after bathing.

This combination treatment may cause drying of skin for some people. We recommend the use of a base oil to keep the skin soft and smooth.
This kit comes with a FREE Belo Silicone Applicator.
*Available while supplies last.

forgot password
Please enter your email address and submit. We will then send you temporary password.
sign in to belo shop
Please enter your registered email and password to start shopping!
Join Belo privilege club (bpc)?
you can join the community by connecting with
our Belo doctors through an e-consultation request an e-consultation
Schedule your video consultation and our Customer Care Specialist will get back to you as soon as they can.
your request has been sent
Our customer care specialists will get back to you within 24 to 48 hours. They will also advise you on the confirmed schedule of your consultation, should it be deemed necessary by your doctor. Otherwise, you can proceed to purchase from the Belo Shop. Happy shopping!
forgot password
Please enter your email address and submit. We will then send you temporary password. REGISTER
Register now and make the most of My Account
* Required field
Your password must be 7-21 characters of upper and lower case, with at least one number.
By signing up, you are agreeing to our Belo Shop Account's
Terms and Conditions
Sign In
Belo Privilege Club (BPC) members
For members who already registered via mobile app or clinics, you may sign in immediately using your BPC email and password.
By using your account, you can earn and use points in any Belo Medical Group products.
Non-BPC members
For non-bpc members, use your registered Belo Shop email and password or sign in via Google or Facebook.